For some people, so long as they have seats around the dining table, that should be enough for them to maintain it that way. However, your dining table does not need to be boring or just plain; you could still come up with some nice centerpieces for your dining table and make it look good.
You never have to worry about which centerpieces you can use. We will give you a nice list to consider and make a difference in how your table looks.
An elevated wooden planter on dining table
You might have thought that only fancy dishes have to make it to the dining table, but you can do it differently with an elevated wooden planter at the middle of the table.
It is possible you might have leftover wood planks around the backyard. If that is the case, you can come up with a nice box and grow some nice plants in it. Make sure to do small plants or succulents. The idea is not to overcrowd the plant box.
Use artificial plants if you want less mess.
Orchid centerpiece
This would work well for those with a modern home design. Let us say you have a glass table in the dining rather than wood. It can easily pair with an orchid centerpiece that complements its looks.
Consider using bright colors for the orchid pot. The white color would be the right choice in most cases. We find it striking while at the same time streamlined. Many people can also find such a color makes the best impression without necessarily distracting them from what the rest of the room looks like.
Pumpkin for design
You are probably used to having pumpkins mostly for Halloween, but this time around, you can have them as part of the table decor. However, this time around, you can consider using a different design.
Make sure you go for lighter tones to avoid scaring people or making them think Halloween is around the corner. You could consider painting them gold and cream, just as in the image above, to have better table decor.
---
Related Video
---
Impressive plant decor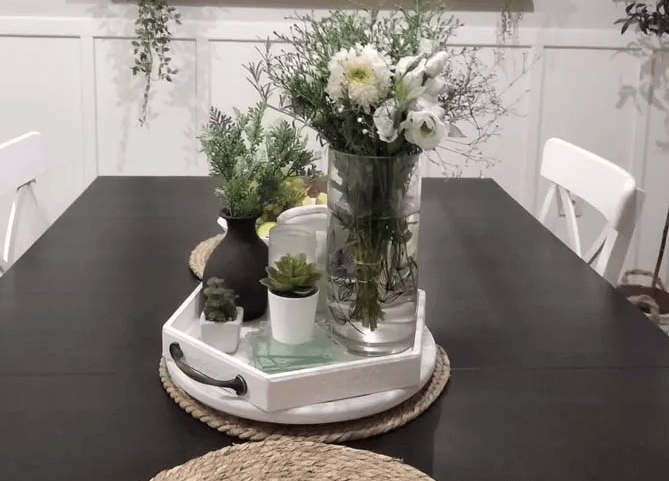 If you enjoy the greenery, this can also be an excellent decor to keep in mind. Some might think just a single vase of flowers on the dining table is enough, but that is not the case. You can always fill more vases and planters on the dining table and make it stand out.
Looking at the image above, you can see that it is possible to have different vases and planters making up a lovely centerpiece. Of course, having flowers of different colors is also highly advised for the best looks.
Decorative dish having flowers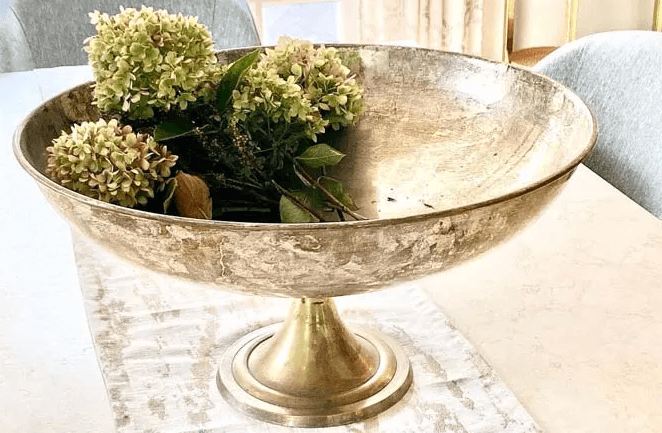 If you enter any store with household goods, you will likely find many options for decoration. One thing that stands out would be the decorative dishes. The cake stands can also do the same job.
Use one of the decorative dishes as the centerpiece and watch just how good it looks on overall. Rather than leaving it plain, you could also consider adding more flowers to the dish and making it stand out quite well.
If you find using real flowers too much work for maintenance, faux flowers or fruits can also transform your table.
Centerpiece pottery
It is hard to go wrong with pottery. This is because of the wide range of options available. Walk into a pottery shop, and you should get many options. The shop would have something for your table.
You can choose based on design, pattern, color, size, and so much more. The best part about such a centerpiece is how easy it would work with different seasons. You could leave the pots empty or add flowers if you like more color.
A clear jar with fresh plants or greenery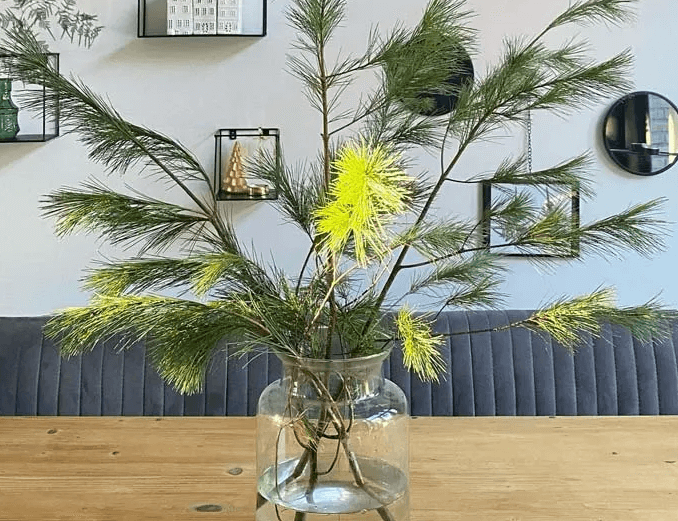 Sometimes you do not have to spend so much money to get the best look for your dining table. In case you are on a budget, the option is to get a clear jar around the house and add some greenery to it. Getting pine tree branches can be ideal for such a decoration.
Still, consider using wildflowers and your typical flowers to get it done.
Winter decorations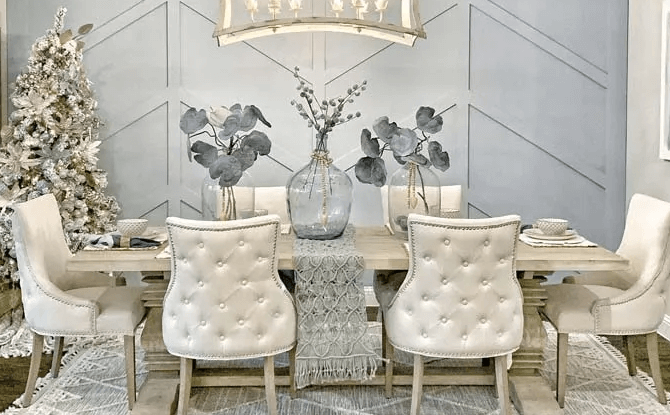 Commonly, people may often feel like winter is dull, and that is how it should remain. That does not have to apply to your dining table. The simplest way to achieve a wintery and icy look is to fill three large glass vases with blue leaves.
This type of decoration can be viewed as bold and contemporary. That is why you may consider it for making bold statements about your home decoration.
Christmas festive centerpiece
We all know how people are often happy about Christmas because it brings people together to enjoy each other's company after a long time apart. For this reason, your dining table centerpiece must reflect the same.
Start by lining the dining table with various Christmas tree figurines to bring out the holiday mood, and then fill the remaining space with fresh green plants. You could also add white pom-poms to finish off with a chic effect.
A farmhouse charm centerpiece
You could still embrace the farmhouse kind of charm for the dining table too. Farmhouses are splendid, so incorporating that into your house would also be great.
The image above gives you an idea of where to start. Get yourself a wooden plank plate and add a potent plant, wooden sign, and vintage jug. Of course, the farmhouse look goes well with a vintage look also.
Candles plus fall colors
Candles can always be a good pick when you want to improve how the table looks. That is why you may want to include a few candles on the table too. We recommend opting for the scented candles as they can make the dining space smell great.
Besides the candles, consider adding some fall colors by using a jar full of fall leaves and a pumpkin. You could also add a string of wooden beads to give you the best look too.
A bowl full of fairy garden
Get yourself an oversized bowl that you can still use on the table as a centerpiece. Make sure to add enough fairy garden plants to spruce it and make it look great.
We recommend sticking to tiny plants such as succulents that will generally leave you with a clean look. Use the right potting soil to make the plants last longer without necessarily having to change them too soon.
Rustic wooden tray
A rustic wooden tray can be a nice pick too. This is because it is simple but still stands out as a gorgeous tool with a great look that people would like.
Getting various options for wood planks should not be hard. Most people have some rustic wood they can use in their backyard to make the tray. Make sure to maintain the distressed surface, as that is what makes it unique.
Conclusion
There will always be various options for decorating the dining table. Some might be affordable, while others may be cheap. Some are even free, as you could use most supplies around the house. So, it all depends on the type of look you hope to achieve with the table decor. A bit of experimenting is not bad, as you can end up with a design you like.