Sziqiqi Pots for Centerpiece Description
Modern Decor:
The appearance of the vases for decor modern is composed of simple strip grooves, which are simple, unpretentious but classic. Sziqiqi small-size gold wedding flower pots are designed with wide circular openings, ideal for placing flower clay for flower arrangements creation.
Mini Size Pots:
2 sizes available:
Small size gold wedding flower pots :2.6"(height)*3″(base diameter)*3.9″(opening ).
Large size plant pots 3.7″(height)*3.5″(base diameter)*4.5″(opening ).
2 colors available:
White/Gold.
Material & Style:
Sziqiqi small urns vases pots for centerpiece are made of durable metal, durable against rust, and can be recycled. Sziqiqi gold metal flower arrangements pot has a polished finish, and the white vase has a white matte finish with a distressed finish on the top and bottom.
No Need Assemble:
Indoor planter pots require no assembly and are ready to use upon receipt. You can put different decorations in the pedestal vase for different occasions, such as fresh flowers with flower foam, faux flower bouquets, silk flowers, dried flowers, etc.
For All Occasions:
Great for adding a decorative touch to farmhouse, home, living room, dining room, bedroom, mantle, fireplace, tabletop, dining table, shelf decor, office. Also, it can be a nice centerpieces decorations for Christmas, Thanksgiving Day, New Year, Valentine's day, party, dinner, holiday, birthday or other special events.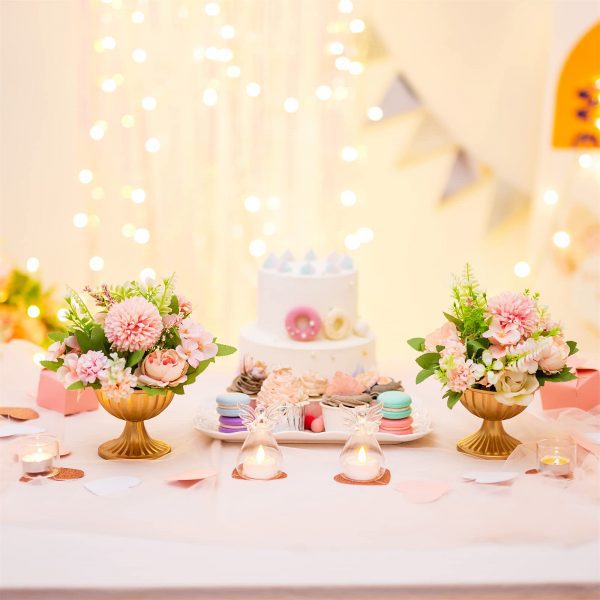 Tips on Pots for Centerpiece Vase
One thing you should know about a centerpiece design is that a lot of math goes into choosing the right one for a table, wedding theme, and many other considerations. The idea is to ensure the pots for centerpiece vase size complements the flower size for the best look.
So, how are the vase sizes and flower sizes picked? We want to look at that in this guide to fully understand how best you can set up your wedding centerpiece next time.
Balancing Pots for Centerpiece Size With Flower Size
Even if it is not a wedding decoration, you will usually receive flowers alone without the vase. This means now you have to look for a vase that can work with the flowers you already have. Unfortunately, sometimes you may be limited to only a few options which would make the flowers not look their best.
The basic math is that you first get the height of the flower stem and then divide this value by 2.5. This would give you the recommended height of the vase you should be having for the specific flowers.
Taking flower stems with a height of 20 inches, divide this by 2.5 to end up with 8. As such, a good vase for the bouquet should be at least 8 inches in height to make the flowers look great.
The constant 2.5 is recommended for the medium to tall vases. However, the small fish-bowl vases could use a constant of 1.5 to get the ideal height of a vase.
Setting up the flowers in the vases is not an exact science. This means that you can be off by an inch or two, and the flowers will still look good. It is all about how you balance the vase with the flower size.
It is possible to come across different shapes of vases and flower types. Thus the rule can be bent a bit to ensure the flowers still look good. An example is when you want to set up flowers with a strong rigid stem; then, the fish bowl vase will do a good job. Here you have to cut based on the height of the vase rather than doing a lot of calculations.
The thin and narrow flowers look best in a narrow neck vase. As you can see, it is all about finding the right balance too between the flower and the vase size too.
7 Things to Consider When Choosing a Pots for Centerpiece Vase
1. Consider the event
2. Shape of tables
3. Your budget
4. Table capacity
5. Overall ambiance
……
Learn more tips here.