Some couples like to get creative with their wedding day by choosing themes that are anything but traditional. However, weddings are sometimes considered the happiest day of your life. They can also be stressful and not very fun to plan. Especially if you and your future spouse have different visions for the big day. One solution to this problem is to incorporate the theme of Halloween wedding into your big day. What's better than celebrating your love and having a blast simultaneously?
If you're planning on getting married this Halloween, don't worry. Your friends and family won't judge you – as long as you can provide them with the details of your festive nuptials! Halloween weddings have become increasingly popular over the last few years. We thought it was time to answer the question: how much does a Halloween wedding cost? Hopefully, this guide will clean all your questions about the Halloween wedding budget.
The average cost of a Halloween wedding
Halloween weddings are nothing new, but the idea of a Halloween wedding can be new for us. If you're looking at ways to save money for your wedding, don't ignore this idea! It's possible to plan a cost-effective Halloween wedding. It will impress all your guests. As you plan your Halloween wedding, here are some ideas regarding the average cost of a Halloween wedding.
For many couples, Halloween is the favorite holiday to celebrate together. For others, it's the most appropriate time to tie the knot (or renew their vows). The average cost of a Halloween wedding varies across the country. Still, according to The Knot's wedding estimate survey, it typically hovers around $15,000, compared to an average wedding cost of $25,445.
Things that will cost you if you have a Halloween wedding
Here are ten things that may cost you more if you have a Halloween wedding.
The dress
Your dress is the first expense of your Halloween wedding, but it's also the one with more options. The perfect dress might take some time to find, so be prepared for shopping. There are always discounts on dresses around October and November. This is because stores try to clear inventory before the holiday season. You can find deals on used dresses at thrift stores or websites like Mercari or Poshmark!
There are so many ways to cut down costs when it comes to buying a dress. For example, rent a gown from Rent the Runway or borrow from a friend. If you're looking for something cheaper, consider making your dress. Don't forget about accessories like shoes and jewelry; those can add up too! And don't underestimate hair and makeup.
The venue
The venue for your Halloween wedding party is one of the first major decisions. Consider how many people you want to fit into the space and how formal or informal the feel should be. If you're looking for something more intimate, you might opt for a smaller venue like an art gallery with high ceilings and lots of nooks and crannies. But if you're not too picky about location and are open to renting out public spaces, a ballroom in a hotel might work for your group size. You'll also need to consider what kind of décor the venue has; if it's only decorated for Christmas parties, then plan on bringing all your supplies!
Cakes
Costs for cakes may depend on the size and intricacy of your design, but even an average cake can quickly come to more than $1,000. For example, Sweet Cakes Bakery in Vancouver charges up to $3,400 for a 10-inch cake. A smaller cake from Buttercream Bakeshop is about $600 for two tiers and $800 for three. Also, decorations are not included in these prices, so you'll need to plan accordingly. And don't forget about buying or renting costumes for your guests! You might want to consider asking them to pay upfront too. Another option?
Ask them to bring their costumes as they enter. Then again, who says they're all coming? It's hard enough getting your family together for Thanksgiving dinner, let alone something like this. So maybe it's best just to save yourself the heartache and take care of all of this before anyone asks you what kind of theme your Halloween wedding will be.
Rings
You may consider not exchanging rings at your ceremony because the costs can be significantly higher. From this couple's experience, they spent more than twice as much on their one set of rings as they would have had they bought them separately. Many couples also put their money into other aspects of the day, such as decor and food. Most importantly, consider what is important to you about your big day. For example, many people don't care about having rings but are determined to have beautiful photos taken with their loved ones. There are so many different ways people make decisions regarding Halloween weddings: make sure you're happy with yours!
Invitations
Traditional invitations typically start at $2.00 per invitation and can go up to $5.00. This is the amount it costs for just the envelopes without any cards or stickers. That would come out to about 100 invitations for about $200. This does not include stamps, stuffing them, and addressing them, which on its own would be an additional $120. Add the price of paper for making your invites or buying paper from Staples, along with cardstock and your envelope glue. It adds up quickly. You'll also need something to print your invitations on. Printer ink starts at around 50 cents per page, costing many printers more than $1.00 per page. Purchasing specialty paper from a stationery store can save you another few dollars.
Guests transportation
You want all of your guests to be able to come on the day of your Halloween wedding, but there is no way they can get there. For example, many people do not have cars and rely on buses, trains, or other public transportation forms. Making sure these modes are covered during your date might help them arrive on time. Consider coordinating with local transit providers like Muni in San Francisco. Send out invitations months in advance. Please make it clear which mode of Transportation needs to be booked by each guest.
Instead of sending out an invitation, provide instructions on how to RSVP through email, so they know where to go next. If guests need assistance getting to the venue, offer transportation options at different prices. If someone lives nearby, offer a free shuttle service within walking distance of their home. If they live farther away and cannot afford travel costs, offer discounted group rates with shared vans or private car services (e.g., Uber).
Decorations
Decorations for a Halloween wedding can be as simple or complicated as you want. Whether you choose to use the typical orange and black colors or if you go with more of a pumpkin theme, there are plenty of options. If you choose a more detailed theme, it is crucial to plan so that your decorations don't cost too much. The most significant expense will be the pumpkins because they are so big. Depending on where you live, some places charge by the pound, and others charge by volume. Whichever way you go about it, figure out how many pounds/liters you need before buying them. Another thing that may add to the cost is bringing in hay bales and corn stalks. These are inexpensive items, but they add a lot of character to the atmosphere.
Favors
Rice Krispie Treats and cookies with chocolate drops were our favorites, costing us $20-$30 per person. We also passed out gummy candies, which ran about $5 per person. We had to order the candy in bulk from an online store and pay for shipping, so it's essential to consider these costs when planning your budget. Our parents helped cover some of this cost since they live close by and could make rice Krispie treats and bake more than enough goodies. If we hadn't had them help out, we would have spent an additional $100-200 dollars. It was worth it, though, because our guests loved all the sweet treats! It might be challenging to ask people to contribute to this expense. But there are plenty of creative ways, such as asking guests for donations towards your honeymoon instead.
Honeymoon
The honeymoon is one of the most memorable parts of your Halloween wedding – but it can also be expensive. Luckily, there are ways to plan a romantic and affordable honeymoon. For example, staycations offer many opportunities for romance at home. Another idea is to take an adventure honeymoon, like canoeing or horseback riding in Colorado or hiking in Scotland. A safari honeymoon sounds exotic and adventurous without costing you an arm and a leg. You could even consider splurging on tickets to a show or sporting event during your trip!
You may think these ideas sound a little too cheap. Please don't forget how much money you'll save by not throwing an extravagant party. If you still want a big event, include some cash gifts from guests rather than asking them to buy $200 purses as favors.
Party food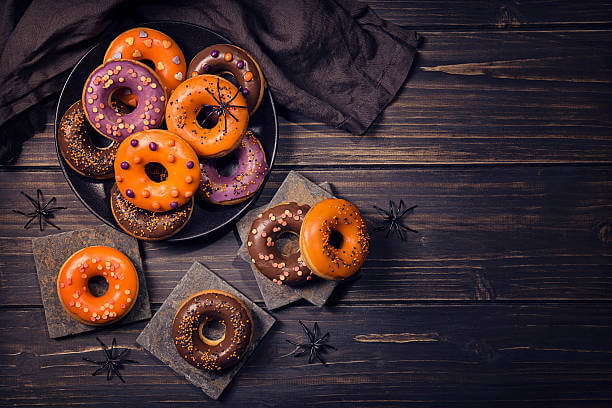 The stereotypical food at a Halloween party is chips and dip, mini sandwiches, candy, and salty treats. These foods are not too difficult to find in your local grocery store during October. However, this would be a fun idea for guests who want to get more into the spirit of the occasion. One way to do this is to create a pumpkin spice bar where guests can make their pumpkin spice latte. Or maybe serve a selection of Halloween-themed ice cream with toppings. And don't forget about the obligatory witch's brew. This can be served in a punch bowl or as individual servings.
Halloween centerpieces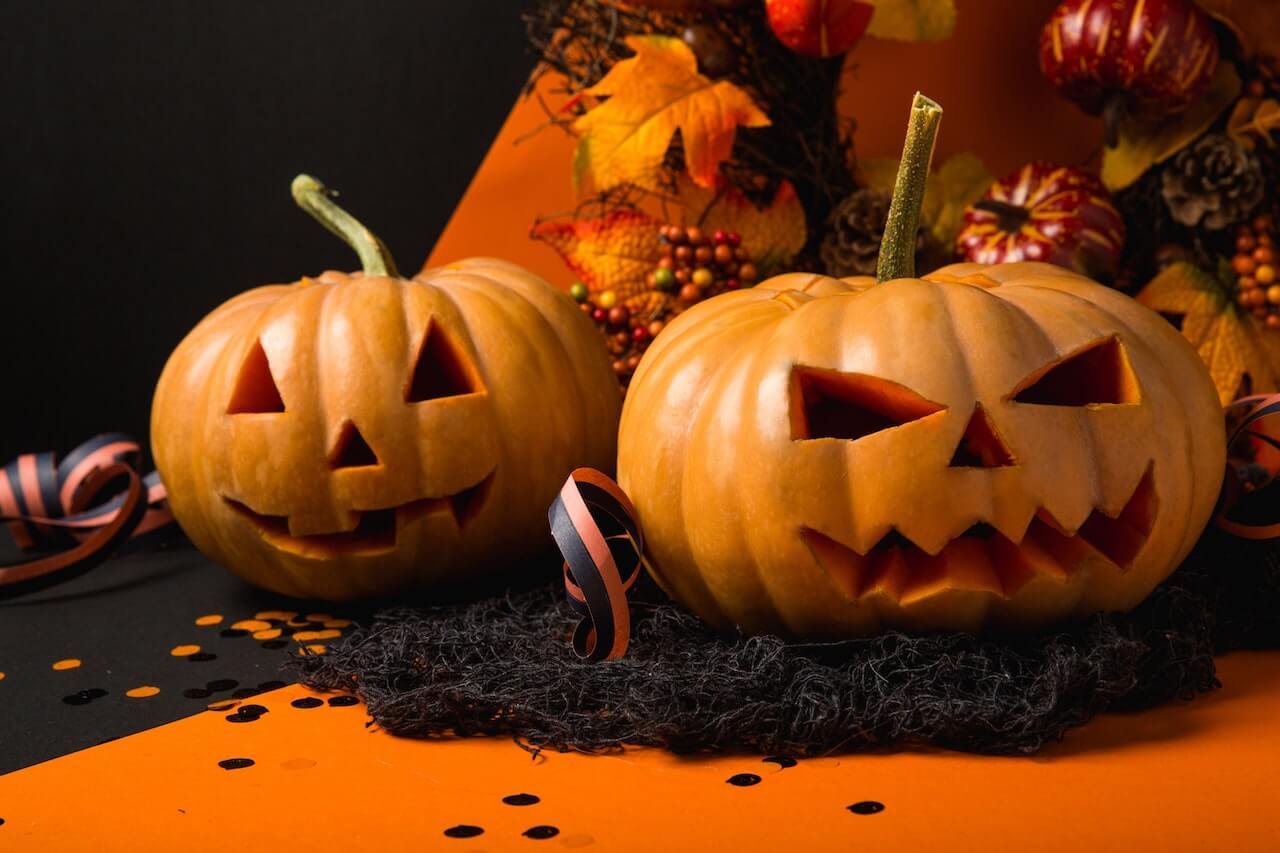 Centerpieces are an easy way to make your event feel like a celebration. One of the most expensive materials for center parts is artificial cobwebs. These must be ordered and imported, so they may not show up when you need them. If you do get them, they are typically sold by the square foot. The price ranges from $2-$20 per square foot! So no matter how big or small your budget is, it will probably be costly.
The good news is there are many other decoration options available on Szqiqi that won't cost as much. Another trick to save some cash is to use old flowers, candles, and furniture pieces you already own. You could reuse old garland around the house and drape it across your tables or mantle!
Tips to save money on your Halloween wedding
Here are some precious tips to save your money on Halloween weddings.
Hire the right team
Hiring the right team is one of the best ways to save money on your Halloween wedding. Finding a great team that suits your needs can be difficult and expensive. But you can do a few things to make the process easier. Look for reliable freelancers or companies with positive reviews who might fit the bill for what you need. Use sites like Gigster and Upwork to find talented people worldwide. Get quotes from at least three potential teams before making a decision. Ask them about their experience and whether they have any references to contact. When getting in touch with prospective vendors, ask them how they would handle particular aspects of your event. For example, if the theme of your event will be DIY style, then it's essential to know if they're willing to work within those parameters or not.
Focus on top-quality decoration elements
Planning a Halloween wedding can be a fun and exciting process. But the cost of many components of this type of event makes it difficult to have Halloween wedding on a budget. Using low-cost decorations is one way you can keep your costs down. Hanging simple spider webs from the ceiling can add a spooky effect without costing much. Candles also work well as they don't cost very much and add an eerie glow to any space. Consider using pumpkins instead of flowers for table centerpieces for an outdoor ceremony. You can buy them in bulk for very little money at most grocery stores during the fall season. If you need to provide something else than a standard table arrangement, try making giant cobwebs with cheap materials.
Downsize the cake size
Planning a Halloween wedding is an exciting and fun process but can also be costly. The cake can often be one of the most expensive items on the menu. We recommend asking your baker for a smaller-sized cake or cutting your cake into individual servings to feed guests. You'll save lots of money this way! Consider going with a chocolate cake instead of a white cake: Chocolate cakes cost less than other flavors and are always delicious. Buy decorations after the big day. If you are lucky enough to have leftovers, buy decorations at home improvement stores like Home Depot or Lowe's after your event has passed. These will likely be much cheaper than buying them before you need them for your party.
Get married at off-peak times
Consider having your Halloween wedding at off-peak times. For example, weddings held during October are notorious for being expensive. And you may find more reasonable options if you're willing to plan your wedding in November or December. Also, avoid months heavily populated with holidays, such as May and September. Few people will be interested in booking those venues, which may make them more affordable for you. However, this strategy does not work for all occasions.
For example, an autumnal wedding would not work well since most couples prefer to get married in the springtime when it's a little warmer outside. The same could be said about winter weddings. They can feel too bleak and wintry if you don't have a good balance of indoor decorations and festive lighting to warm up the atmosphere.
Go with a buffet instead of dinner
Wanting to save money and still have a great meal is understandable. So, instead of a sit-down dinner for all your guests, why not go with a buffet? Buffets are famous and can save you up to 30% from the cost of hiring a caterer. Plus, they allow people to socialize and mingle while waiting in line, allowing everyone to say hello.
Plan an app course and hors d'oeuvres or appetizers-only course.
Send out thank you cards at every significant milestone of your Halloween wedding. Your guest book arrives, and their gift arrives after the wedding day itself.
Coordinating colors between your florist and any other vendors will give it a cohesive look. They will also know how many tables they need for setting up, so you don't overpay.
Prioritize in terms of the guest experience
The spookiest day of the year is also the most expensive! We've got eight money-saving tips for your big day that won't sacrifice what's important. To save even more, consider hosting your Halloween wedding at home! Hosting a DIY party will cut costs and give you and your guests a chance to be as creative as they want with decorations and food stations. Costumes can be thrifted or handmade; get creative with edible treats like cake pops or pumpkin pie bites instead of buying candy. Light-up jack o'lanterns are a less expensive alternative to candles. And if you have an outdoor Halloween wedding, decorate tree branches for each table.
Coordinate your theme and colors
A Halloween theme is excellent for your guests. Its costs are also much less than other popular Halloween wedding themes. Even better, you can use your clothes and decorations from a previous year's wedding to dress up your home. Themed paper goods are cheap and festive. It is easy to make your tablecloth by spray painting fabric sheets with glow-in-the-dark paint! You can also find all sorts of cost-effective props at discount retailers and craft shops. But if you're not into DIY projects, many inexpensive sites offer themed items like Halloween Things. They have everything from labels to wrappers and cake stands.
Shop around
Start shopping around to find the best prices for your necessities and items you plan to purchase. You can also purchase items online, where they tend to be less expensive than if you buy them in person. It's essential to consider the costs involved in traveling, hotels, and rentals. If your Halloween wedding is outside your home state, plan on renting everything from tables and chairs to tablecloths and glassware. Consider hiring professionals who will provide those services, so you don't have to worry about it on your big day.
Make sure that you order any special cakes or desserts early enough, so there are no delays in production or delivery. Don't forget to account for the cost of any food and drinks which will be served at the reception.
Come up with clever costumes and decorations
You're celebrating your love with the perfect partner. There's no need to spend too much on decorations, particularly since you'll be entertaining outside. But you can still significantly impact your guests without breaking the bank. Here are some clever software and decorating ideas that are not only affordable but creative, too!
A. Create an altar or alter in your home (decked out in fall colors) as a central focal point.
B. Make skeletons from cardboard and fabric. This will require some elbow grease but is worth it if you want something very different
C. Create candelabras out of old light bulbs.
D. Use pumpkins instead of bowls or vases to hold flowers, fruit, candy, etc. And buy them at discount stores like Target and Walmart.
E. If children are invited, set up a balloon room where they can paint faces and take photos with friends.
F. Don't forget about costumes! Invest in store-bought outfits for couples who don't want to buy Halloween wedding attire.
G. Consider renting tables and chairs rather than buying them new.
Hire friends or family to assist you
Hiring friends or family is one way to keep your costs down. For example, if you're looking for help in setting up a venue, ask someone who knows the area to handle it on the cheap. If you need help with design or finding affordable rentals, ask your best friend who might be studying interior design. If someone is kind enough to offer this assistance without any payback, go ahead and accept it! One person can do most of the work if they know what they are doing.
Not only will this free up your time to take care of other tasks, but it will also save you money by not having to hire an outside vendor. Secondly, there's no point in spending more than necessary when you have people around who want to lend a hand. After all, all that matters at the end of the day is how happy you are with your Halloween wedding – not how much money was spent on it.
Don't be afraid to advertise
It may seem daunting initially, but don't be afraid to advertise to the general public. Advertising is just another way of getting your idea out there so that you can start generating revenue. You can always use flyers and postcards in strategic locations. You can also network with others in your community by hosting cross-promoting events. Additionally, if you're a member of any online communities, it would be wise to make announcements about your upcoming event here.
The more exposure your Halloween wedding gets, the more likely potential guests will find out about it. And while word of mouth may be less reliable than other advertising techniques. This is one instance where relying on friends and family members is acceptable to spread the word. The more people know about your party before they arrive, the better!
Give yourself an extra month
Set yourself up for success by starting your Halloween wedding planning at least four months ahead of time. This will give you plenty of time to budget and shop for deals, from invitations to decorations and DJ services. You'll also have enough time to get any questions answered, or hiccups ironed out with the venue, caterer, and other vendors before it's too late. Your guests will appreciate knowing what to expect when they arrive. So be sure to post a clear invitation that includes location, date, time, dress code, RSVP instructions, and how to contact you if there are any problems.
Track expenses thoroughly
The first step in budgeting is tracking your expenses. Whether you are using Quicken, Excel, or an app like Mint. The more detailed, the better. One thing to remember is that the Halloween wedding doesn't have to be DIY to be affordable. You can have it catered and let guests do things like bring the booze and make their costumes if they want. Inviting only close friends and family can help limit costs, too, as well as sticking with one location or having it catered at home. Remember that favors don't have to cost money, so think of something everyone will enjoy. And finally: when inviting people who may not RSVP because of cost, ask them for cash instead of gifts.
Start looking at less costly venues early
Look at community venues early in the process. This is because these are often less expensive than traditional banquet halls. Often community centers and schoolhouses have available spaces that work great for Halloween weddings. This can help you find unique and intimate venues without breaking the bank.
It's best to start looking at a venue six months or more before your Halloween wedding date to secure the spot and make sure it fits within your budget constraints. Determine how many guests will attend beforehand, so you know how much space you'll need (about one square foot per person). If all of this feels too complicated, enlist the help of an event planner! They can take care of most of the legwork while providing valuable input on what makes sense from a financial perspective.
Conclusion
Halloween weddings are an incredibly festive and exciting time of life, but it may not be the best time to plan your wedding. Consider many things, such as inviting trick-or-treaters into your reception or venue. You'll also need to find a caterer who can make food for children in addition to adults, which could make prices higher. Even with all these extra details, people still choose to hold their weddings during this time. It is because they love the costume potential! However, if you decide to go ahead with a Halloween wedding, we hope these tips help guide you through the process.
Halloween wedding costs: FAQs
Here are some critical, frequently asked questions about Halloween wedding costs.
What are the top most expensive cities to get married in?
New York City, New York, has some of the most expensive average wedding costs in the country. Washington, D.C California, and Chicago also have high average prices.
Do you need a wedding planner for your wedding?
It depends on your level of involvement and where you want to focus your time. If you're doing most of the work and enjoy decorating, DIY ing a lot of the details, etc., you may not need a wedding planner. On the other hand, if you don't have time for all of that or are looking for someone to ensure every detail is correct before it happens, then yes! You might also want a planner if you have children involved with your event. They often offer programs geared towards kids so they can feel included and a part of the day tool.
Is there such a thing as cheap wedding invitations?
There are a few aspects of a wedding that can have an impact on the budget as the wedding invitations. This is why it's essential to ensure you're getting quality invites at a price you can afford. And sometimes, one way to ensure this is to go with a postcard or basic invite. Print them yourselves instead of ordering custom-made invitations. Postcards also work well for save-the-dates. It can be ordered in bulk online for a relatively inexpensive cost. The plus side to using a postcard is that you'll be able to send out your save-the-date without worrying about overstocking.
Do you have tips for hosting a super cheap wedding?
A super cheap wedding can be hosted using simple but clever ideas. For example, save money by not buying unnecessary decorations and renting them instead. Plus, the couple can save money by cutting down on the guest list or having a small ceremony with only close family and friends. To cut down on food costs, try asking guests to bring a dish to share or supply appetizers instead of a full meal. Not only will this keep your budget low, but it is also a thoughtful idea for your guests!
How can we save on centerpieces?
Making your centerpieces is a great way to save some money. Pick up some vases from the dollar store, buy fake flowers and decor, and go to town. You can also use succulents for table centerpieces!
---
Related Video: