A wedding venue is often a big factor when it comes to setting the tone or theme of the wedding. Many people might be used to holding a wedding inside a building, but that can also change when you have other options. We are talking about holding your wedding outdoors.
A good outdoor wedding needs the right centerpieces to make it stand out. So, what are your options for centerpieces for outdoor weddings? We look at the ideas below for you to consider the next time you work on a wedding with an outdoor theme.
Floral wreaths
When you want an outdoor wedding, one of the most important considerations would be the flower wreaths. There is no wedding that would be complete without flowers; just make sure you turn them into beautiful wreaths.
The floral wreaths can be hung around the wedding venue to create a beautiful theme. We recommend using the services of a florist to find the best flowers that can easily turn into beautiful wreaths.
Use ladders
Ladders would be great options when you want to have vintage outdoor weddings. The use of ladders is quite underrated, but if you can stage them creatively, you should end up with beautiful centerpieces for outdoor wedding themes.
It does not have to be the ladders alone; make sure you have a decorative feature too. You can cover them with lights or even flowers to make something magical. Some can use the ladders as the area the couple uses to enter the garden.
Huge floral arrangement
It could be that you picked a plain field for holding your wedding. How would you ensure that such a venue looks good in such a case?
The biggest way to improve a wedding venue is by adding a floral arrangement to it. You can always go big if the budget allows. Such floral arrangements would definitely make the venue better for the wedding photos.
Of course, you need to ensure the flowers match and can be easily found locally. This is because getting flowers from far can be expensive.
Such arrangements would need the use of flower vases. We recommend getting high-quality, beautifully crafted vases that can complement the look of the flowers.
Do not forget to add color
You should find ways to add colors to the outdoor wedding theme. The most common option would be to use balloons. It is hard to go wrong with balloons since you can get many options.
Other than the colors, consider different shapes too to decorate the venue.
A swanky dancefloor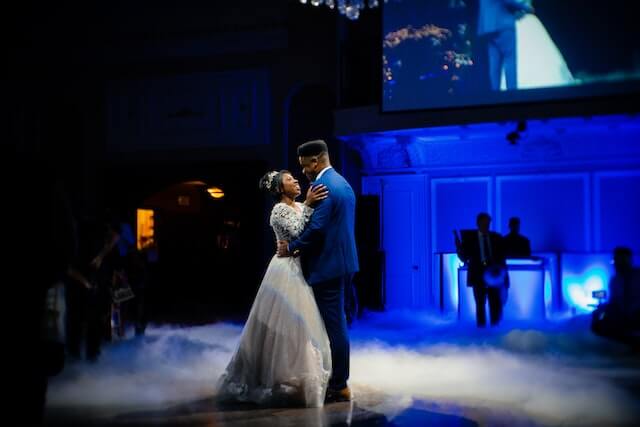 At some point, you may have to dance with your partner at the wedding. Even if you are just organizing for someone else, the dancefloor also needs to stand out.
Since it is outdoors, people might be dancing on the grass. However, they might injure themselves because of slipping and stepping on pebbles. The solution is to set up a solid platform that can work as a dancefloor. Of course, you cannot forget to add enough light to it.
Besides illuminated floors, you can also come up with different designs that make it worth getting up there for a good time.
Chandeliers and lanterns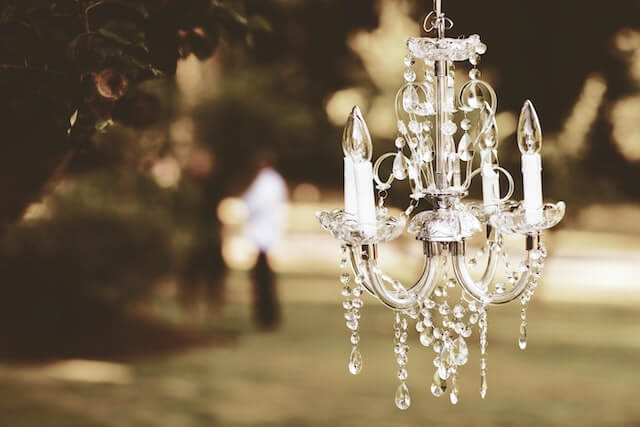 The lighting options at any wedding are key in helping you have the best centerpieces for outdoor wedding themes. Once the tent has been set up outdoors, ensure proper lighting at the venue to give you the best wedding setup.
When it comes to lighting, you have options such as lanterns, chandeliers, candles, and so much more.
Chandeliers always have a way of turning an area into a beautiful space. Those who might want a rustic or antique would then go for the lanterns.
Candles can also be placed strategically so that you have the best mood lighting for a wedding. Not too dark or too bright, that is what you should be going for.
Stretching tents
As much as you want an outdoor wedding, it is still advisable to have an overhead tent. It all depends on the environment. You might find that the tent provides enough shelter from various elements, such as the sun.
Also, in case it is the rainy season, you would not want your family and friends to be rained on. That is why you always have to get the stretching tents.
The tents can be nice centerpieces for outdoor weddings if you get the right ones. Most modern tents are easy to set up and take down in different venues. So, you should not have a problem with using such tents.
Also, you can choose different designs, shapes, and colors for the wedding. The aim is always to match your existing wedding theme.
Use nature for photo backdrops
Nature is your friend when it comes to wedding setups. You should consider using nature as part of the wedding decor. An example is using it as a backdrop for photos. We are talking of scenic surroundings, green grass, flora, and so much more. You would not even have to pay for some things since they are part of nature.
You can still add more plants to the setup to enjoy the green backdrop. If it is too green, improve the colors by adding wreaths to the background to have the best photos ever.
Use more fabric for the decorations
Weddings are also fond of using fabrics as part of centerpieces for outdoor weddings. The good thing about fabric is that it can be versatile. You can use it for making canopies or adding them to the seats. It is all about how creative you can get with the fabric.
The fabric choice can be based on color, material type, and length, among other factors.
Also, fabrics are more affordable. This is because you can get a lot of fabric for cheap. So, you save a fortune while at the same time making the wedding look great.
Haystack Seating
You can also decide to ditch the chairs and simply sit on haystacks. This can be a great deal, especially when you want an outdoor country-style type of wedding centerpiece.
Consider adding quilts on top of the haystacks to help improve comfort while at the same time providing variety in terms of color and looks.
A tree with your love story
This can also be a good option to consider when seeking centerpieces for outdoor weddings. The option includes having a tree trunk pinned with your photos throughout the years you had met and dated. It can be like a timelapse of your relationship. Expect many people to enjoy such a love story at your wedding.
Wedding cake display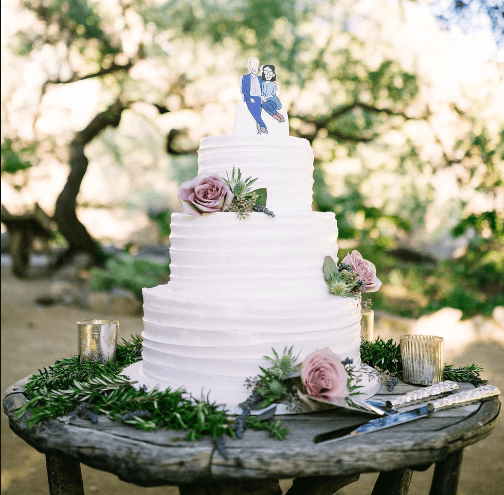 The wedding cake, as always, needs a proper presentation. This can only happen if you take your time to identify the best stand with an outdoor theme. We recommend getting a rustic stand to blend well into the theme.
You can buy a rustic stand or have one made from weathered wood to look like it has been outdoors for a long time.
Conclusion
There are several ways you can make the outdoor wedding fun and enjoyable. We have listed as many options as possible for you to use as centerpieces for outdoor weddings. You can still come up with more depending on your research, but these should get you going for now. What is important is to be creative and use what you have. You do not have to spend a fortune to get the best wedding.